How to improve the look of your home with replacement windows
Replacement windows can change the overall look of any home aesthetically, especially when dramatic changes are required when removing old warn out double or single glazing. Replacement windows can easily change the appearance of your home inside and outside. Many people consider changing their old windows but one of the home owner's main decision is whether it's worth the money. The answer is YES! Not only will your home have better energy efficiency, better noise reduction, but many properties even increase in value.  Throughout this double glazing blog, we have put together many reasons you would benefit from replacement windows including any additional information on how to choose the correct window style.
When should I replace my windows?
If your windows are looking old and deteriorated, then it may be time to replace your old windows with our energy efficient glazing.  There are various signs which indicate when it is time to replace your old windows with new ones!
Windows which are damaged, warped, or broken
Sometimes it can be possible to repair windows if there is small signs of deterioration instead of replacing them. Small window problems such as minor weather tripping or hardware issues, then this can easily be repaired which could be the better option. However, if windows are warped, or damaged window sash or frames, then we will always recommend replacement windows rather than attempting repair. Even when the windows appear to be operating correctly, they have high probability of developing problems. Other problems like draft coming through windows, sticky windows while closing or opening. If you are glazing is suffering from any of these issues then it will definitely be worth replacing them
Reducing your energy bills
By purchasing new double glazed windows will provide some heat via the windows during winter months, achieved by allowing sunlight through the window. Old windows which allow a draft through will cause an energy increase by between 10 – 25% according to Energy.gov. Therefore by replacing your windows with our sophisticated energy efficient windows will maintain heat therefore reducing your overall heating bills. If you do decide to put your home up for sale, then your energy efficient rating could be a huge selling point to potential buyers.
When purchasing replacement double glazing, don't assume that all windows are the same. We offer energy-efficient options tailored to best suit your location and requirements. Our windows are insulated as standard as well as A+ and triple glazed options.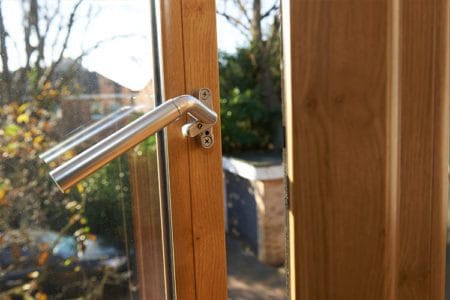 Your home requires a complete makeover
Double glazed windows are the most protuberant feature to any home. But if these windows are warn or damaged then they will make your home look like this too. Check to see if your uPVC windows have faded in colour, or even warped, also check to see any of the uPVC strips have come away from the window cill or frames.
If you have decided to change the overall appearance of your home, you may wish to decide to change the type of window itself. These could include a fixed sash window to an opening window, creating a more n natural air flow into your home. Another idea could be to install a larger window, allowing more natural light into your room.
If you have noticed pest infesting within your windows then this maybe another indicator to replace your windows.  Small insects can enter your home via gaps from damaged windows.
If your windows are becoming faulty such as difficulty opening and closing the windows, then this advocates that your windows could be worn out and requires replacing.
If you have noticed any of these issues then please don't hesitate to contact www.peterborough-doors.co.uk to discuss replacement windows and their significant benefits.
Renovating a Period House
If you have recently moved to a historic or period home and require replacement windows to match the historic expression, then by choosing the wrong window or manufacture could really spoil the appearance of your home. If you need to maintain its historical integrity, then we could advice you on the right windows to correctly match your property.
What makes a window energy efficient?
When our windows are manufactured there are many factors that are taking into account such as the design of window. A specialist gas is inserted between the two planes of glass, and this increases the insulation and not just the vacuum space. This gas is specially pre-treated with a thin metallic coating, ensuring that heat will not escape to the outside environment. Natural light is still allowed to enter the home while reflecting the heat back into the room. Though this may appear to be a complicated process, these windows provide a substantial venture.
Benefits of Replacement Windows
Another significant benefit of replacing your windows could be an increase to the value of your property. If your windows are all shabby, discoloured and warn, this could put off prospective buyers. So if you replace your windows now and decide to sell your home in the future, then our replacement windows could be quite eye-catching to new home buyers.
PVCu vs Aluminium Window Profile
We offer PVCu or aluminium windows which are fully customised to the clients requirements. We will manufacture any set of windows to best match your existing ones. We offer a variety of window styles and colours from cream to Chartwell – the choice is yours!
What is an R-value window?
When you are looking for a replacement windows then the R-value must be considered. As the R-value represents the thermal reflection of the window. If you live in a cold windy environment, then a higher R-value will be advised to maintain soundproofing and temperature control.
Some window manufacturers offer windows with R-values between 3-5, these are extremely poor windows and provide very little insulating benefits. These are normally found in single plane glazing or poor double glazed windows. We always recommend replacing your windows to either double glazing or triple glazing with R-values exceeding 5 – 9.
Peterborough Windows & Doors are here to help you!
Peterborough windows will help you find the right window style not forgetting the correct energy efficiency level to best complement your home. We manufacture and install a versatile range of uPVC windows and aluminium windows, offering the most affordable and competitive prices. We also offer a free non-obligated quote to anyone looking for replacement windows.