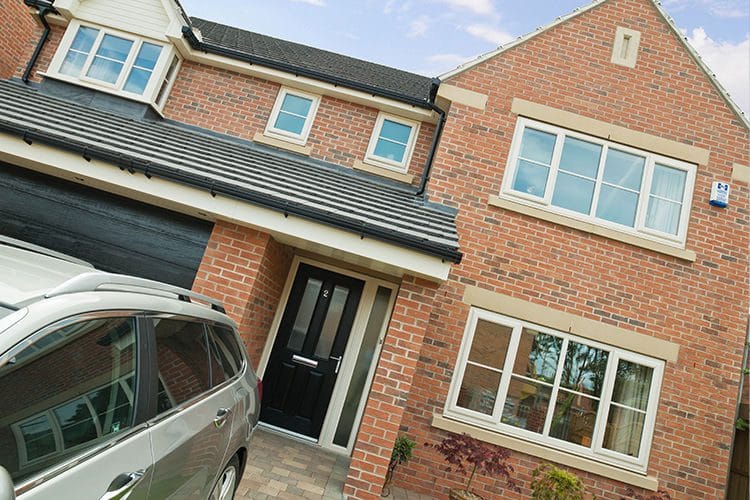 Casement Windows Peterborough
Our Peterborough casement windows are extremely versatile they remain the most popular choice for homes all over Peterborough, Cambridge and East Anglia.
This traditional Peterborough window style offers slim sight lines to maximise light. The casement window is available in a wide choice of conformations, including top or side hung, or even as a French window fire escape. To maintain the traditional vertical sliding window appearance, you can add a mock sash horns to the casement windows. Adding astragal bars or Georgian bars will also add character to your uPVC windows appearance.
Choosing Peterborough uPVC casement windows will eliminate draughty windows, our Liniar's unique, patented double-action bubble gasket is used in all our products, delivering a continuous seal even within the corners allowing the uPVC windows to maintain weather proof and leak-free.
Our uPVC casement windows can be either internally or externally beaded available in sculptured (curved) or chamfered (bevelled) 70mm profiles (frames), with either 28mm double glazed or 36mm triple glazed windows.
We also offer an upgrade from our standard 4-chamber profile which delivers supreme energy efficiency to our 6 chamber profile which offers A+ Window Energy Rating. All uPVC casement windows are available in a wide choice of colours, finishes, also hardware and glazing options.
Our brand new Flush Sash Window casement window offers an eco-friendly, cost effective alternative to traditional timber windows, with the sash fitting flush into the frame.

Energy Efficient Windows
The casement windows have a unique six-chamber PVCu profile, EnergyPlus allowing this window to easily achieve an A+ rating, conserving heat within your Peterborough home.

High security Windows
These Liniar casement windows are fitted with high security multi-point locking mechanism as standard providing the ultimate security for your home
Less frame, more Window glass
These casement windows offer the typical traditional window style, however with these ultra slim lines they offer maximum light into the room

Triple Glazing Windows
Our casement windows are available in standard 28mm double glazing or the ultimate 36mm triple glazing windows. These windows can achieve a U-value of 0.8 with Energy-Plus profile.
Low maintenance windows
Our casement windows will never rot, rust, or require painting all these windows require is a quick wipe down with soapy water, even if you purchased our foiled colours.
Additional Extras
You will be spoilt with choice when it comes to our wide range of colours, option extras such as mock sash horns, Georgian bars and astragal bars.