Conservatories Peterborough
Conservatories and their designs are evolving, the traditional Conservatory could only be used within the summer months as they were far too cold in the winter. Conservatories have now become thermally efficient so can be used all year round.
Are you looking for a conservatory but you don't know which kind to choose? With so many different designs we can bespoke your conservatory to the exact specification you require.
We offer conservatories ranging from traditional and modern designs, to contemporary projects. These conservatories will create an extra living space, they are thermally efficient, not including locally manufactured for peace in mind.
Why not choose our self-cleaning glass conservatory roof?
This clever glass roof has a unique dual action microscopic coating. The coating uses daylight to break down organic dirt, the rain water then washes these deposits off. The glass dries quickly reducing streaks.
P-Shaped Conservatories
P-Shaped Conservatories are ideal for those larger, detached properties, which require a little extra living space.
The P-shaped conservatory is designed using the combination of the Lean-To with the Georgian conservatory.
The P-Shaped Conservatory is extremely versatile as it extends in different directions, this provides the opportunity for two different living areas.
The p-shaped conservatory is an extremely popular choice as it has the ability to be used as a lounge or dining area, also a play area in the larger rounded part of the conservatory.

Victorian Conservatories Peterborough
The Victorian Conservatory is the most popular style conservatory in Peterborough. The Victorian Conservatory ideally suits all types of properties, designed with a bay front, steeply pitched roof with a decorative ridge.
Our Victorian Conservatories are built with modern uPVC or aluminium, configured in any design. This conservatory will blend into any Peterborough property, with modern double glazing and door systems.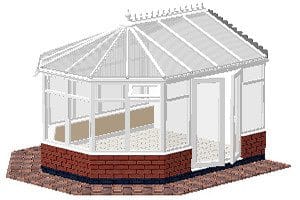 Edwardian Conservatories Peterborough
The Edwardian conservatory is commonly known as the Georgian designed with a flat front with either a square or rectangular shaped. This square type conservatory allows more space for furniture to be placed wasting no space.
The Edwardian conservatory is normally designed with a high sloping roof, providing maximum light, uplifting your room into your Conservatory room. The Georgian conservatory has grown extremely popular throughout Peterborough. This style conservatory works best with existing Georgian architecture making an elegant extra room to your home.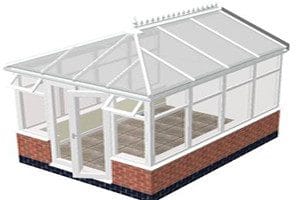 Lean-To Conservatories Peterborough
The Lean-To Conservatory is extremely popular choice of conservatory style throughout Peterborough homes, due to its simple design, clean lines, while maintaining a contemporary look.
The Lean-To Conservatory is also commonly known as the Mediterranean conservatory, this conservatory style is ideal if you have restricted space like a bungalow, or if your garden is too awkward to accommodate a conservatory. The Lean-To Conservatory can be designed with a shallow pitch ideal to suit a low bungalow roof or a steep pitch ideal for a terraced house.
The Lean-To Conservatory is often known as a sunroom or garden rooms, as they trap the winter sunlight converting it to heat via the double glazed glass.
Gable-End Conservatories
The Gable-End Conservatory can add real majesty to your Peterborough home. The Gable-End Conservatory front stand tall and upright, like the end of a house, hence where the gable-end conservatory gets its name from.
The Gable-End Conservatory is either square or rectangular shaped style, very much like the Georgian Conservatory. This shape allows maximum area to be planned inside the conservatory floor, the gable-end front maximises light into the conservatory room, while the gable height gives the room a feeling of space.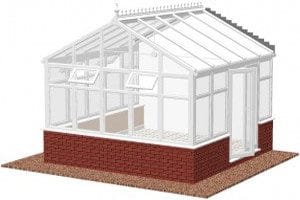 Bespoke Conservatories

The Bespoke Conservatory often known as a Large or Portal Conservatories, are uniquely designed providing an impressive structure to your Peterborough home.
The Bespoke Conservatory can be built with a combination of all conservatory designs. While the Large Conservatories are built using supporting skeleton which sits inside the conservatory. The Large Conservatory is ideal for a hotel dining room or as a cover for an outside swimming pool or gym.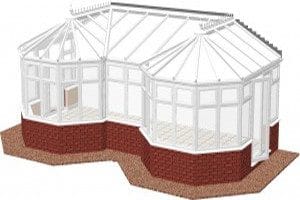 Livinroof Conservatory
The Livinroof offers a perfect balance between light and home comfort. Peterborough homeowners no longer need to choose between a glass roof conservatory and a tiled roof conservatory. This is because the Livinroof combines the best of both conservatory roofing systems.
Why not extend your living space whilst creating an extremely comfortable stylish roof, which is bright with light but suitable all year round!
Whether you are looking for a new house extension or replacing your existing glass conservatory roof, Livinroof will give you that flexibility that you are looking for. This stunning conservatory allows maximum privacy of a solid conservatory roof but without that compromise that a glass roof conservatory provides.
The Livinroof conservatory is constructed from a choice of either aluminium or insulated composite external panels. This conservatory is extremely robust and sophisticated. This conservatory is one of the most modern types of conservatory on the market. Complemented with urban grey panels making sure that your conservatory remains the wow factor to any Peterborough homeowner.