Fascia's and Soffits Peterborough
Fascia's, Soffits & Guttering – The Best Price for Roofline within Peterborough & Stamford!
We are Roofline specialists based in Peterborough, offering a huge range of roofline products, covering Peterborough and Stamford areas. Services include fascia boards, soffits, guttering, downpipes & gladding.
Roofline products are extremely important as they are designed to protect your property, especially your roof. However, they are also manufactured to provide an extremely attractive appearance to a home, making the roofline look clean a fresh.
We always recommend that timber fascia and soffits are replaced with modern uPVC boards, rather than climbing a ladder yearly to repaint and repair boards. Timber fascia and soffits are likely to rot and peal, exposing the timber to the outside elements. This is why our brand new replacement fascia and soffits offer a new life to your home which should exceed 20 years! We only use high quality fascia and soffits as these will not warp, crack or even discolour.
Our expert roofline team have many years of experience working within the roofline industry. They offer the highest standards, delivery the following roofline services:
Replacement Fascia's and repairs where necessary
Replacement Soffits and repairs where necessary
Replacement Gutters and downpipes
Replacement Gladding and repairs
UPVC Dry Verges
UPVC Ridge Caps
We offer a free no obligation with all of our roofline services. We are also extremely competitive and provide a free on-site survey!
UPVC Roofline
We always use uPVC for all of our roofline products as uPVC will not rot, warp or discolour like timber roofline products. UPVC roofline is near enough maintenance free. This allows you to enjoy the benefits of a stunning roofline products however without the hassles and stress that timber brings.
Fascia's Peterborough
Fascia's are designed to cover the end of the rafters protecting the rafters from the outside elements. Fascia boards will support the end tile whilst offering a point of attachment for the guttering.
Fascia's are available in a wide range of colours and finishing's, ensuring that we have the ideal fascia to match any home. Fascia boards are available for both traditional and contemporary properties.
Soffits Peterborough
Soffits are designed to cover the roof framework whilst attaching to the fascia joint. Soffits much like the fascia boards are also manufactured to offer the seamless beauty and appearance of the roofline area. Soffit boards offer that crisp, clean appearance and stunning finish.
Soffits are also available with built in ventilation which prevents condensation building up, then eventually causing issues with the roof rafters.
Soffits are available in a wide range of colours and finishes, offer that perfect look for any Peterborough home.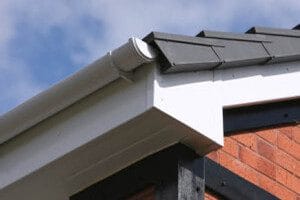 Guttering Peterborough
Modern uPVC gutters and downpipes are extremely low maintenance. Due to the high grade materials, these gutters do not often require repairs, like old traditional drainpipes.
When we installing gutters we always ensure that a constant flow will be maintained, this prevents water pooling up which eventually leads to stagnation and damage.
Our gutters and downpipes are available in a wide range of colours which will match and adapt to any Peterborough home.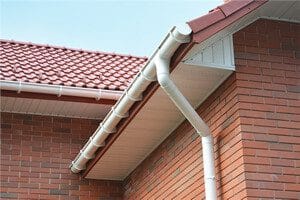 Cladding Peterborough
Cladding is manufactured to provide an impressive and efficient insulation to a property. Our high quality uPVC cladding is designed to eradicate any draughts from entering your property. Cladding is carefully premeditated to control wind penetrating a property. Whilst maximising heat retention ensuring your home will maintain a good temperature all year round.
There is no need to worry about water pooling across our cladding. Our cladding will control water build up by ensuring that the rain water will run off the cladding preventing any long term damage.
Our cladding is available in a wide range of designs and colours, which will suit any style property.