Windows & Doors Replacements in College Park Peterborough
We were invited to a residence in Peterborough after the owner had received many quotes from various double glazing installers in Peterborough. The homeowner was over the moon with the quality of our products and obviously the total cost for the job. The gentleman had recently purchased this property and wanted all the windows and doors replaced but need to remain brown woodgrain on the outside, to match the rest of the street.
On looking from the inside, we advised the occupant to go for white on the inside of the windows and woodgrain on the outside. This would magnify the light into the room, showing a fresh homely look. We could achieve this by manufacturing the uPVC windows in white then applying a foil on the outside, providing a stunning brown woodgrain effect.
Double Glazing Replacement
As you can see from the original images, all of the uPVC windows on the outside property looked old and run down. After we replaced the double glazing, this home looked 20 years younger, while maintaining the heritage look.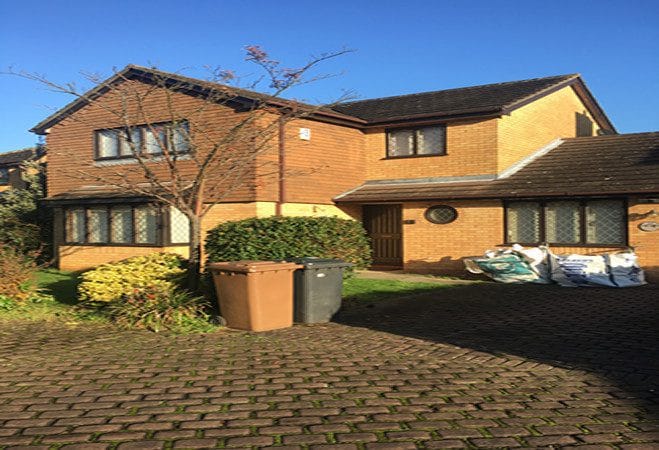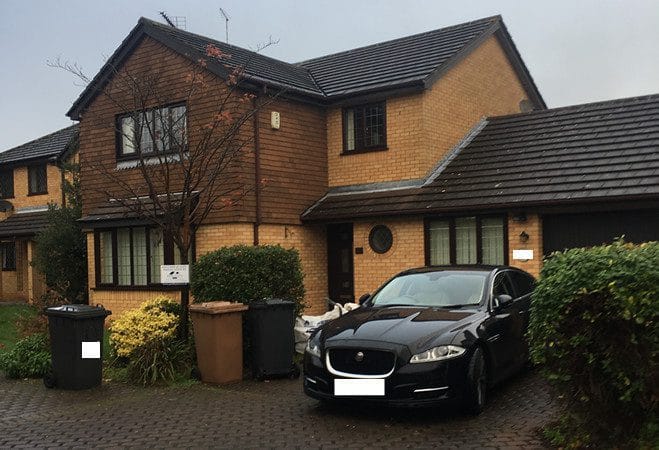 Front Door Replacement
Why are more and more Peterborough homeowners replacing their old heritage style front door with modern composite doors?
While real timber doors originally looked great, it is rather expensive to maintain their traditional look. Timber doors tend to warp and twist over time due to the weather. Therefore cannot maintain that natural wooden beauty at its best. Composite doors can be manufactured in many colours and styles which can replace old traditional wooden doors, with stunning brown woodgrain composite door styles.  We also offer a variety of door panels that match these doors, which can completely transform a property into a home.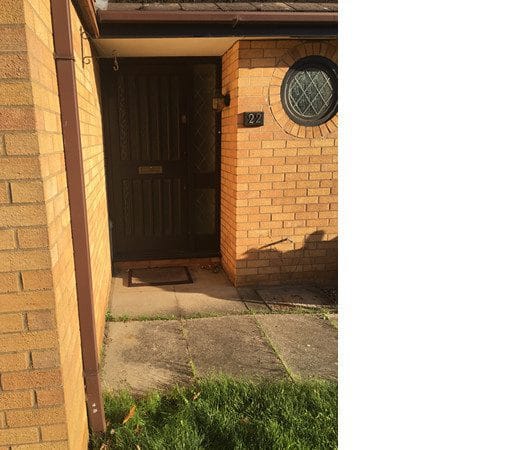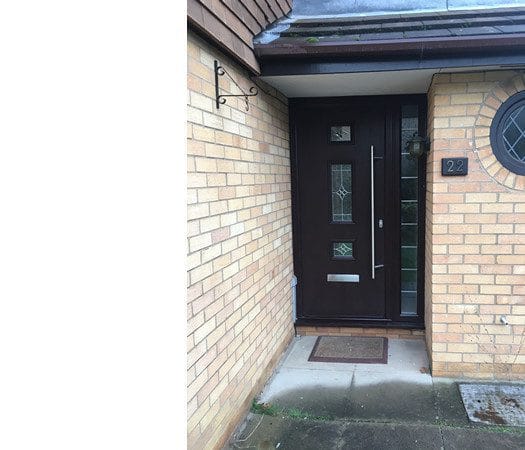 As we spoke to the homeowner in regards to replacement door options. We did explain the different between uPVC doors and composite doors. The occupant looked at the difference between quality and the price difference, then decided to opt for the composite door range. The homeowner really liked one of his neighbour's doors, so we matched the same door but at a very competitive price.
This composite door was manufactured with a realistic woodgrain effect texture, ensuring that this door would look just like a stylish traditional timber door. This composite door is extremely low maintenance, robust and weather resistant. Not like the traditional wooden entrance door, this composite door will not rot, crack, or ever need painting. The only maintenance this door will require, is an occasional wipe with a wet cloth.
Double Glazing with Condensation
Double glazing with condensation can be extremely irritating, which in some cases can even damage your home, especially old wooden windows. Condensation can even eventually rot wood, develop mould then damage plaster. In severe cases produce excess moisture causing interior condensation, which may lead to the entire home being damaged, not just around the windows.
As you can see by image, these double glazed windows required replacing as they had extreme condensation within the panes also the interior side of the window. These windows were caused by excessive moisture in the house.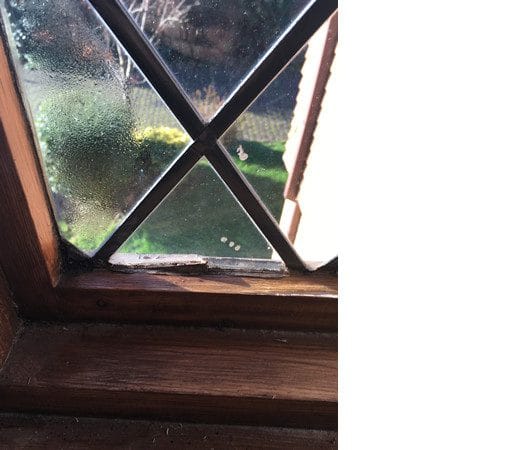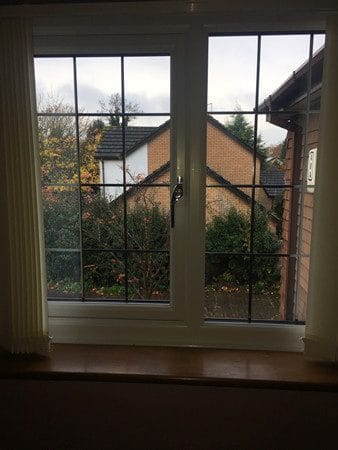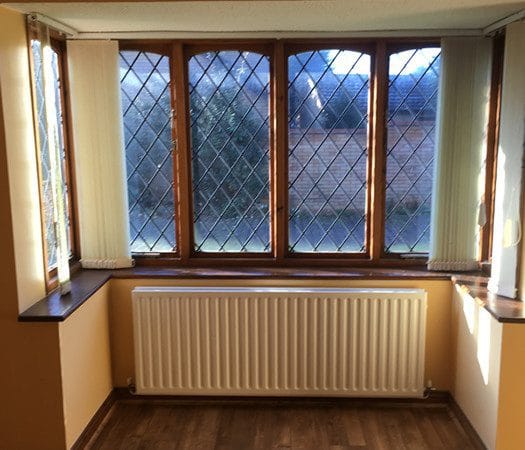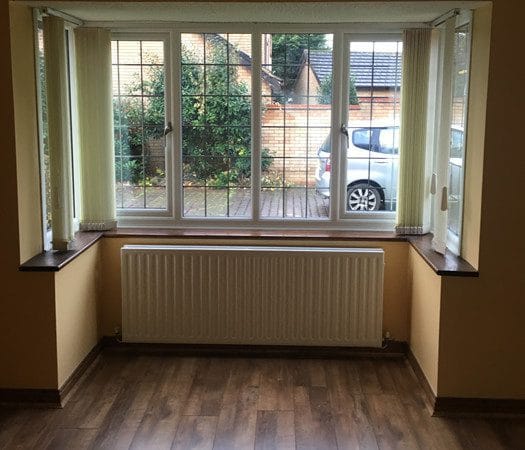 Replacement Bow Windows
The home owner requested replacement Bow windows. As you can see by the photograph the old Bow windows looked very out of style, dark and provided a 70s look. While the replacement Bow windows created a stunning fresh modern look. The homeowner requested to keep the existing window cills as they would maintain the wooden effect of the interior, while the white reflected the light into the room. When we discuss replacement Bay and Bow windows with our customers, many customers do not understand the difference between these double glazed windows. Below are a few facts to help you understand a little more.
What is the difference between Bay windows and Bow windows?
At a glance the bow and bay windows appear to look alike. Both windows will open up a room allowing more light and air, while providing the appearance of more space and glamour to any room.
The bay windows has only three openings, while the bow window has four or five. A bay windows structure involves a picture windows, with two other windows, normally smaller, placed on either side of this larger window. While the bow windows are structured in a curved appearance, creating a rounded appearance on the outside of the property.
The bow windows are extremely popular when a window requires to be wrapped around a corner of the building. This forms a unique tower shape on the outside, with the advantage of viewing from two sides of the home. Bay windows however, protrude further away from the wall, providing additional interior room space.
This would also be increased during the winter periods when warm air inside the house would condense onto the cold wooden windows. Exterior condensation is from dew, this occurs when the window is colder than that of the dew point. The condensation between the window panes occurred when the window seal between the panes was broken.
Window Security Locks
High security locks are an extremely important feature for all windows and doors. These security locks provide the ultimate protection against burglars breaking into your home taking your belongings.
Have you ever wondered why door and window security is so important? The only entry point for a burglar into your home is via either your windows or doors.  As a homeowner it is your responsibility to ensure that you, your family also belongings are fully protected from this risk.
It is therefore extremely important that ensure your windows are fully secure if you would like to keep your home safe and secure.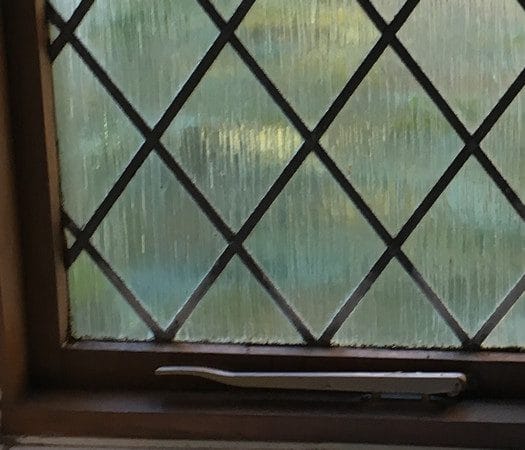 Stay Safe & Secure with Our Double Glazing
As you can see from the image on the left, the double glazed windows have extremely old window locks. An intruder could quite easily force the window open using a screwdriver or improvised tool. Meanwhile the window on the right has a high security window locking mechanism. If the intruder tries to open these windows he/she will be in for a shock.  All of our windows and doors have security locking systems which comply with PAS24 standards or upgraded to endorse schemes such as Secured By Design.
Replacement Doors
The ultimate Composite doors are manufactured from high impact un-plasticized polyvinyl chloride, otherwise known as PVCu. These composite doors can be manufactured to match any windows and rooflines within a property. These composite doors can be manufactured to various colours to match window and roofline colour themes. On this particular home we recommended woodgrain to match the windows and facia and soffits.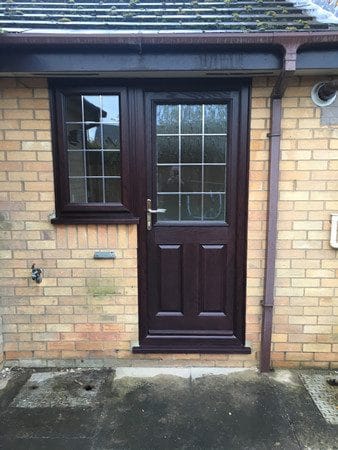 These composite doors are fully protected by sophisticated technology preventing these doors from cracking, bending or warping in the hot and cold weather. These composite doors are very low maintenance, PVCu will only require an occasion wipe down with a damp cloth. As these composite doors do not expose wood to the climate, then they will not swell or rot either. Our composite doors have a 10 year manufacture guarantee, which cannot be provided with any timber door.
Peterborough Doors provide the best manufactured un-plasticised polyvinyl chloride (PVCu) doors or composite doors, to match your current double glazing and rooflines within your property. We also offer residential front entrance doors which are extremely high quality. Our door range includes French doors, Bifold doors, aluminium doors, aluminium bifold doors.