Why choose SMART Aluminium Windows and Doors
The SMART system has over 35 years' experience as a leading aluminium manufacturer and supplier of aluminium windows and door systems within the UK. As a trusted aluminium manufacturer, we at Peterborough Doors choose to use this system via our local Peterborough fabricators.  We take pride in the quality of our aluminium windows and doors, this includes the breadth and depth of our product range.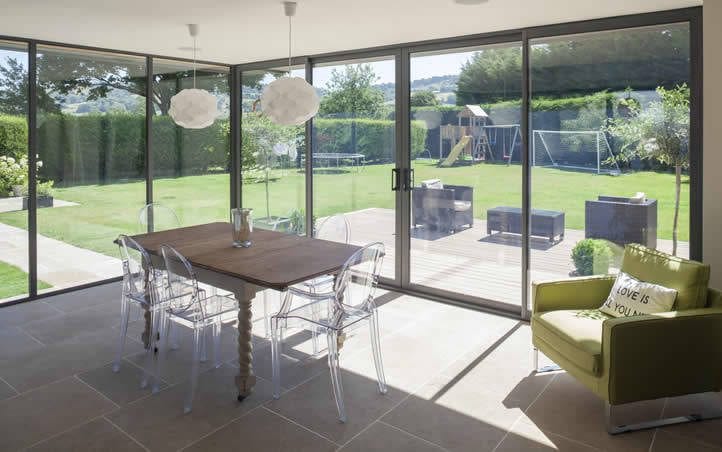 Our Peterborough aluminium manufactures operate from a state of the art aluminium manufacturing plant. Housing modern extrusion presses also a chromate-free polyester powder coating paint lines. They also have a dedicated paint line for aluminium hardware and accessories, ensuring we can deliver consistent colour matches for every product.
Why choose aluminium windows and doors
Aluminium is renowned for light weight and extremely high strength, aluminium can be found in a wide range of everyday products from cars to washing machines and patio doors. Combining its long life and low maintenance requirements, this is why aluminium has become the natural choice when selecting new or replacement windows and doors in Peterborough.
Our SMART aluminium windows and doors range are designed with performance, they look outstanding, with each frame integrating a "thermal-break". Which insulates our aluminium doors and aluminium windows, against heat loss, increasing the overall internal temperature of your home, preventing risk of condensation.
Aluminium Windows and Doors Maintenance
Maintenance for your aluminium windows and doors is straight forward, using a routine "wipe-clean" with a damp cloth, will keep your aluminium looking its best. Aluminium windows and doors will never fade, so there is no need for re-painting or re-varnishing. Aluminium windows and doors will not rust, even in the extreme environments.