Warm Roof Conservatories

Our Warm Roof Conservatories are designed to change an old disused conservatory into a comfortable living space. Many homeowners have still got polycarbonate roofs on their conservatory which makes the conservatory far too hot in the summer and cold in the winter. However, our warm roofs are fully insulated and hand-tiled ensuring that your conservatory can be used all year round.
The warm roof is fully installed and manufactured to the very dimensions of your existing conservatory, taking the width, style and type conservatory into account. If extra light is required then why not opt for extra glazing within the roof.
Warm Roofs are quick to install
One main advantage of this light weight conservatory roof is that it is extremely fast to install. It is possible to install this brand new conservatory tiled roof in only 2-3 days.
This tiled conservatory roof is also far superior to our competitors. With the energy efficiency of a standard house roof, matching materials and the longevity also. With the options of either concrete effect or slate tiles, with a huge range of colours available too.
Unlimited Range of Styles
These warm roofs can be manufactured to near enough any style or range to suit any type of conservatory. The most popular styled conservatories are: Victorian, Edwardian, Gable-End, Lean-To, P-Shaped or T-Shaped conservatories. So if you are looking for a replacement conservatory roof, we can design and manufacturer this warm roof to replace your old roof with a new design and look too. The tiles used on this warm tiled roof are Tapco slate or Metrolite concrete effect tiles. These tiles are extremely robust which are guaranteed not to degrade regardless of the weather.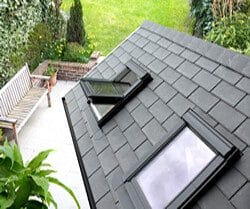 Why Choose A Warm Roof Conservatory?
Extremely Light Weight
Our Warm Roof system is extremely light weight especially compared to other tiled roofing products which are typically double the weight of a traditional glass conservatory roof.
No Plywood Required
The LEKA Warm Roof System does not require any plywood materials, so by removing this products reduces a substantial amount of weight from this tiled roof. Plywood is also susceptible to deterioration over a period of time. Our Warm Roof is 100% weatherproof, extremely lightweight.
Longevity
Using the lightweight Metrotile as the final finish or even the Tapco slate tile can reassure you that you will have the perfect finish to your conservatory or sunroom.
These tiles even come with an amazing 40 YEAR WARRANTY.
Glass Reinforced Plastic
By using GRP allows the overall structure to be far lighter than the alternative products such as aluminium and timber. GRP will not sweat or offer condensation or even cold bridging. GRP will not rot, or absorb moisture like its competitors roofing systems. The LEKA conservatory warm roof complies with BS EN13706.
10-12% lighter than a traditional glass roof
The Leka warm roof weighs within 10-12% of a traditional glass conservatory roof. Most of this weight is due to the lighter roof bars and frame structure compared to your existing conservatory frames.
Enhanced Energy Efficiency
Due to the high-tech load bearing highly insulated structural weatherproof outer sheet minimises the requirements for so many roofing bars. This allows the roof bars to be widely spread reducing not just the weight of the warm roof, but maximises the energy efficiency levels as well.