Composite Doors Market Deeping
We offer a great variety of composite doors that will be ideal for any home in Market Deeping. With a range of composite front doors, composite back doors, or even stable doors, we have the perfect door for you! With a vast variety of styles and finishes, not for getting a brilliant colour range, which are all available within the Market Deeping area.
All of our composite doors are available with either matching composite panels or uPVC panels. These panels are available with a range of decorative glazing, which can be either all glazed or split between glass and panel. All composite doors and panels are obtainable with door handles, letterboxes and even door knockers and spyholes. Why not use our composite door designer to design your unique door today!
Whether you live in a modern property in Market Deeping or in a country cottage, we have an array of composite stable doors suitable for you. We can even match the colour of your existing uPVC windows.
All of our composite doors are installed with the latest safety features which guarantees peace of mind when it comes to home safety.
Composite Doors Materials
Our composite doors are manufactured combining sophisticated materials uniting UPVC, wood (structurer), insulated foam with GRP (glass reinforced plastic). These composite doors offer a stunning appearance whilst maintain home security.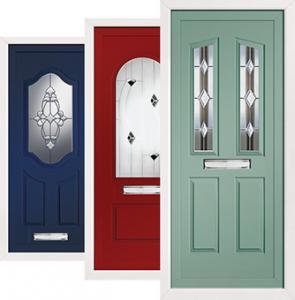 Composite Front Doors Market Deeping
By replacing an old worn front door with one of our spectacular composite front doors will brighten up the appearance of any Market Deeping property. A replacement composite front door will offer a proclamation to your neighbours and visitors. These beautiful front doors are fitted with a choice of contemporary furniture which will change the look of that old boring door entrance, to a bright, fashionable appearance that you will be proud of.
Why not choose a Long Brass Bar or chrome handles, or even an anthracite 4 square composite door to exaggerate that appearance. Whatever the style, whatever the feature you require, we have that composite front door for you.
Composite Back Doors Market Deeping
Due to home security composite back door have become extremely popular within the Market Deeping area. More and more Market Deeping homeowners are now realising how strong and durable these composite back doors are. As most burglaries occur through the back door, it makes common sense to ensure that the back door is at least as secure as the front door. Just like the composite front door, these back doors are also available with the same door security features. These composite back doors will tackle any intruder who tries to make entry into your home via the back door.
These replacement back doors offer security, resilience and style to any Market Deeping home, which will last for years to come.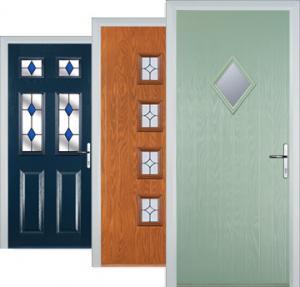 Composite Door Security
Whether you are purchasing a composite front door or back door, they are all manufactured with a solid core structure. This provides strength and stability ensuring that your door will be manufactured with the best quality materials, offer the perfect home security. For added security all of our composite doors are installed with a Yale multipoint locking mechanism as standard. These Yale door locks are so robust that they are anti drilling, picking, or even forced entry. Our composite doors are not just extremely versatile and secure, but look exceptional as well, ideal for any Market Deeping property.
Composite Door Colour Range
As mentioned earlier these composite doors are available in a massive selection of colours and designs. With a sequence of thresholds, frames and edges, makes the choice desirable. With over 12 different types of frames, colour range from white to anthracite, we even offer a woodgrain effect which will complement a wood appearance.
All of our composite doors are be uniquely configured with a massive selection of handles and hardware, ensuring that your door will be uniquely designed and you will be the talk of Market Deeping.
Best Priced Composite Door in Market Deeping
We offer the most competitive prices for composite doors within Market Deeping. These composite doors do not just offer a huge range of styles and features, but they are extremely affordable as well. We do not just fit the best, but we will guarantee our outstanding work as well!