Composite Doors Crowland
We manufacturer the best collection of composite style doors which will suit any Crowland property. Our composite doors are extremely stunning and we offer a huge range of front composite doors, back composite doors and stable doors. All of our composite doors are available with stunning furniture and finishes, not forgetting our outstanding colour range.
We also offer a selection of composite side panels and flat panels, which will match any of our composite door range. These door panels are available in decorative glazing options not forgetting door knockers and letterboxes. These door side panels are an ideal way to enhance the light into your Crowland home. We can even colour match the frame to your existing window frame style.
With our enhanced door security system (Yale), you can rest assure that your Crowland home will be safe from intruders.
Composite Doors Materials
Our composite door range are manufactured using the latest invested technology. With a combination of materials such as oak, UPVC, insulated foam (for thermal efficiency), not forgetting GRP (glass re-enforced plastic). GRP is so robust it is even used within shipping vessels, so you can be confident it's a strong material.
Composite doors are manufactured to offer a robust door but with a timber door appearance. Our collection of composite doors are extremely strong, secure and near enough maintenance free!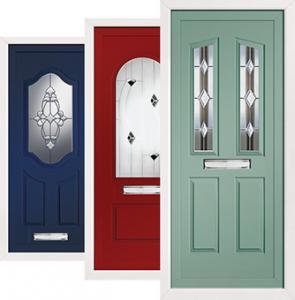 Composite Front Doors Crowland
By ordering a new composite front door will brighten up the appearance of any Crowland home.
Why not provide a statement to your neighbours and friends by purchasing one of our stunning composite front doors. We have a huge variety of designs to choose from. From our contemporary range which will suit any modern Crowland property, to a more contemporary style for the more historian style home. These spectacular front doors will brighten up any lacklustre door way.
We also offer stylish Long Bars and Bow handles to choose from which are ideal for any modern composite front door. Design your own unique composite door using some of our huge selection of door features, provides endless opportunities.
Composite Back Doors Crowland
Due to the increase crime rate, composite back doors have become increasingly popular throughout Crowland. More and more Crowland home owners understand the durability and strength of composite back doors, which will help prevent intruders. Recent crime statistics indicate that most burglaries will occur through the back door. Though having a nice modern front door is a high priority, so should be the back door as well! Our composite back doors are incredibly strong and secure. By opting for a replacement composite back door will offer peace of mind ensuring that no uninvited guests will enter your Crowland home via the back door.
By purchasing a replacement composite back door will not only increase your home security, but will offer style, sophistication to any Crowland home, for many years to come.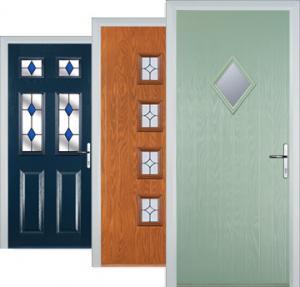 Composite Door Security
Composite doors offer the best home security due their inner timber core and high security locking mechanism. All of our composite doors are fitted with a minimum of a Yale superior 3* multipoint locking mechanism as standard. The Yale locking mechanism is notorious for its prevention of being picked or even forced entry.
By purchasing a composite door will not only make your Crowland home look stunning, but will enhance the home security as well.
Huge Colour Range
These composite front and back doors are available in a wide range of colours and designs. With a range of different thresholds, these doors will match any floor level as well. With 16 stunning door designs and over 14 different colour as standard. We are sure that we can provide that perfect door for you.
These elegant doors are constituted with either Chrome, Satin Chrome, Gold, Black or White hardware options, this will ensure that your door will be the talk of your neighbourhood.
Most Affordable Composite Door Prices in Crowland
We don't just provide the best quality composite doors in Crowland, but the most affordable too! We aim to offer the best priced composite doors throughout the Crowland area. We do not sub-contract our work out to other companies, which allows the best quality of door fitting. Our composite door installers are highly trained and qualified, allowing our door company to guarantee our outstanding workmanship!