Why Choose Liniar uPVC Windows?
Liniar uPVC casement windows are extremely versatile, they offer slim lines which maximises the light into the room. This is why these Liniar windows remain the most popular choice of windows, not only in Peterborough, but the whole UK.
Energy Efficient 'A' Rated Windows
These high quality uPVC frames will help reduce energy bills by increasing the overall value of your home. We work alongside the Liniar productive team ensuring that each of our uPVC profiles are outstanding. Each individual window frame is supplied with a ten-year guarantee.
Our Double Glazed Windows and Energy Efficiency
There is many studies and research that prove that poor quality uPVC windows and pitiable installation, are responsible for up to 20% of heat loss from a home. This is why we have chosen to install Liniar windows. These Liniar profiles have been perceptively designed to minimise this heat loss. Our uPVC windows maintains energy saving vales, accomplished without harmful materials like lead and steel, ensuring that these window frames are environmentally friendly, also 100% recyclable.
Our uPVC windows are incredibly energy efficient, also very tough too. These uPVC windows are complete with glazing flippers and thermal dams, minimising cold air admission, also preventing water leaking through. The intelligent window frame is fabricated from a sequence of size augmented chambers.
These optimised chambers hold pockets of warm air this creates an updraft of heat within the frame, preventing the cold air entering through to the property. Our uPVC windows attain an astounding A+12 in the Window Energy Rating.
Why Choose Peterborough Doors for your Liniar Windows?
We are proud to be one of the most successful double glazing companies within Peterborough, Cambridge and Stamford areas. Our double glazing teams are highly skilled and extremely professional, trained to the highest standard.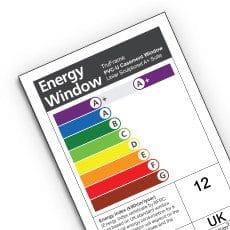 A+12 WER
Our Liniar uPVC windows are capable of achieving a WER (Window Energy Rating) of A+12 using our sealed double glazing units. We are unaware of any other uPVC windows which can match our energy efficient windows.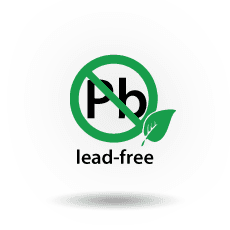 Our uPVC windows are 100% Lead Free
Our double glazed windows are better for the environment as the Liniar frames are made from lead free materials. All elements of Liniar profiles are 100% recyclable, not many window manufactures can match that.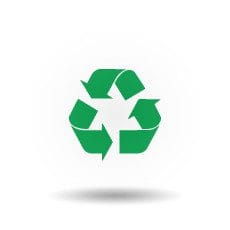 We are committed to Recycling
Our uPVC windows are tremendously tough therefore don't require expensive steel fortification. These double glazed windows are 100% recyclable ensuring they are truly environmentally friendly.
Our uPVC Windows have incredible U-values
Triple glazing is increasingly popular due to the energy savings they create. Our triple glazing windows have a new 40mm glazing bead, allowing a U-value as little as 1.0 W/(m²-K) with triple glazing.
Our uPVC are more thermal efficient
The Liniar uPVC window profile are designed using the innovative technologies. The multiple size-optimised chambers are specially designed to entrap heat in while breaking up mini convection current.
Double Glazed Windows – Superior Gaskets
Our patented double-action gaskets stop gaps from forming thereby preventing heat loss. Memory retentive properties maintain consistently tight weather seals throughout the product lifecycle.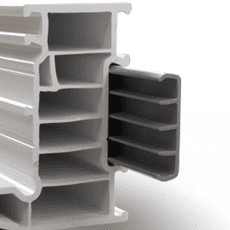 Inventory Thermal Dam
Our double glazed window frames were specially designed to meet PassiveHaus recommendations. The Thermal Dams improves the level of thermal transfer, helping to achieve U-values and Energy Ratings.